QUALITY
| | |
| --- | --- |
| Feature | Benefit |
| No butt connectors, all soldered connections | Increased uptime with the use of severe duty wiring that eliminates shorts caused by poor connections. |
| Custom Made-to-Order Hydraulic Hoses | Reduces the opportunity for contamination in the Hydraulic System. |
| Computer Controlled Cutting & Forming Process | Guarantees a consistent cut part every time |
| Fully Shrouded | Protects all components from Mother Nature and allows cold temperature operation |
| | s |
| Mix on Demand | Eliminates the end users dependency of commercially premixed materials. |
| Clean, Tack, Fill & Compact, Top Layer, & Immediate Traffic Flow | 92% Compaction rate based on the Strategic Highway Initiative Testing without the use of compactors. |
| 2 Speed Aggregate Hopper & Conveyor Feed Syste | More consistent flow of aggregate than other systems. Operator can switch between 2 conveyor speeds for dry coating or skin patches. |
| Nozzle Tilt | Allows a more efficient movement of rock when cleaning the repair, and reduces rock bounce. |
| Twin Engine System | Allows for patch on the go, and increased productivity. |
| Heated Emulsion Presets | Takes the guesswork out of the amount of emulsion the operator applies to the aggregate. This feature allows the operator to preset the amount of emulsion desired. When ready, flip a switch to initiate coating the aggregate. Improves the consistency of materials from one repair to the next. |
| Hydraulic Valves enclosed within body | Valves are located within the patcher body, and are not exposed to the elements. Readily accessible for servicing. |
| 8 Hole Emulsion Spray Ring | Having 8 holes in the spray ring allows a more even coat of the aggregate, and increases the life of the repair. |
| Rectangular Debris Hopper | Allows for ease of loading. |
| Quick Disconnect Aggregate Hose | Reduces downtime during maintenance . |
PERFORMANCE
| | |
| --- | --- |
| Feature | Benefit |
| 6.5 Cubic Yard Hopper | Hauls more gravel for improved performance. |
| 300 Gallon Emulsion Tank | Allows for fewer refills during the day for better productivity. |
| Heated Emulsion Presets | Takes the guesswork out of the amount of emulsion the operator applies to the aggregate. This feature allows the operator to preset the amount of emulsion desired. When ready, flip a switch to initiate coating the aggregate. Improves the consistency of materials from one repair to the next. |
| Nozzle Tilt | Allows a more efficient movement of rock when cleaning the repair, and reduces rock bounce. |
Public Safety
| | |
| --- | --- |
| Feature | Benefit |
| Operator Located in the Cab | Eliminates the operator being exposed to traffic, and reduces the risk potential personal injury. Increased operator Comfort and increased productivity. |
| Backup Alarm | Variable output backup alarm adjust automatically above the surrounding noise levels |
| LED Lighting | Increased Visibility on the streets, and reduced cost of ownership. |
| Integrated Directional Arrow Board | Safely directs traffic during operation . |
| Heads-up CAN Bus Control System | Keeps the operator focused on the road during operation. |
| Electric Emulsion Valve | In Cab controlled prevents the operator from climbing on the back of the machine. |
| Large Work Platform | Allows safe access to the aggregate feeder. |
Value
Feature
Benefit
Head up display
Large easy to see 7″ TFT CLD Color display.
Displays step-by-step patching process while informing the operator of system functions, conditions and alarms.
Retains memory even if power is lost.
Hydraulic Test Ports
Reduces troubleshooting time
Emulsion Heating System
During Operation engine coolant keeps the emulsion at, or near 150 degrees. Can patch in Cold temperatures.
Fully Shrouded
Protects all components from Mother Nature and allows cold temperature operation.
Mix on Demand
Eliminates the end users dependency of commercially premixed materials.
Hydraulic Valves enclosed within body
Valves are located within the patcher body, and are not exposed to the elements. Readily accessible for servicing.
Quick Disconnect Aggregate Hose
Reduces downtime during maintenance
Rectangular Debris Hopper
Allows for ease of loading.
Customer Support
| | |
| --- | --- |
| Feature | Benefit |
| Warranty Support | Schwarze® people are on duty to support you and your equipment |
| Parts Availability | Schwarze® original equipment parts are available when you need them. |
| Trusted Dealers | Trusted dealers will support you before and after-purchase needs. |
| Global Support | Schwarze® staff will set-up and train on location world-wide. |
| Industry Involvement | Schwarze® supports the industry trade shows, and industry associations. |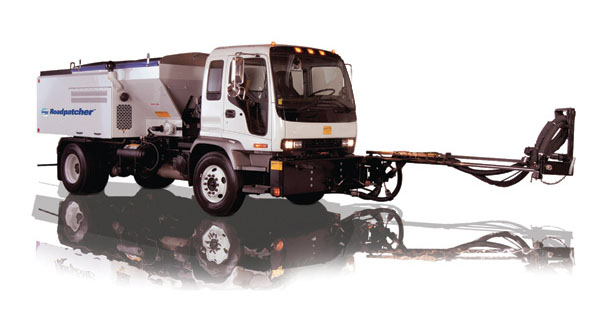 Road and Asphalt Repair Patcher
The Schwarze® Roadpatcher™ list of standard features a vane feeder to meter the aggregate into the air stream by a positive air lock vane feeder which ensures consistent aggregate placement and an even emulsion coating. This system creates the highest quality patch available. The Roadpatcher™ achieves a 92% compaction rate without the use of compactors based on the Strategic Highway Initiative Testing and allows for immediate traffic flow. Come to the people you know, for the products you trust.


Visit Schwarze.com